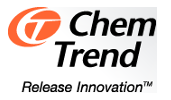 Lusin Clean L11
Lusin Clean L11 is very efficient to remove grease, oil and wax with a very short drying time. Lusin Clean L11 doesn't
leave any residues after drying. Its special consistency allows it to go everywhere inside the mold and it will disappear after a short period of time, by evaporation. The other advantage is that Lusin® Clean L 11 doesn't attack the plastics.
Other benefits include:
– Degreases and cleans thoroughly
– Short drying times
– Suitable for plastic and rubber
– Suitable for ultrasonic cleaning
Lusin Clean L11 can be applied on the mold during production to remove grease and oily marks (ejector pin marks,
etc.). It can also be used before lubricating any part of the mold to remove the old grease on the core slides, ejectors pin's etc. and to remove hard standing protecting agent in the corners. As Lusin Clean L11 doesn't attack the plastics, it can be used to clean large plastic parts (car bumpers, dash board, inside doors panel, toys etc.).
Practical Use:
Lusin Clean L11 is efficient and very easy to use. Just spray it on the oily area and wipe it or remove it by injection inside the mold. To avoid apparition of the ejectors pins' greasy touch, it is better to spray the Lusin Clean L11 at an angle and not perpendicular to the ejector pins.